Arachova (Arahova) and area around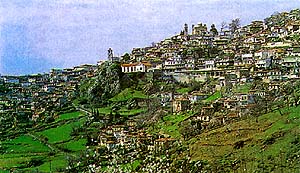 Arachova is a small mountain town, its quaint houses are built up on the north slopes of Mount Parnassos, with 4000 inhabitants, 800 – 1100m altitude, 157 km from Athens, 25 km from Parnassus (Parnassos) ski centers, 8km from Delphi, and 25km from beautiful beaches Antikira and Itea.
History of contemporary Arachova dates back to the furthest past. We find its first traces in Prehistory. The legend states that its inhabitants were Dephcalionas and Pyrra's descendants whose ark stopped after the deluge on Parnassos. The poet Homer states that the town participated in Trojan War by the name of Anemoria whereas Philip the Macedonian later destroyed it. The area reveals its past: at Livadi near Arahova Coryceo Antro (Corycian Cave) has been discovered prehistoric cave-temple dedicated to God Pan and where women from the surrounding areas would gather every five years, wearing disguises, to dance by torch light through the night.
The Arachova's battle, 18-24 November 1826, played a major role in the Revolution of 1821.
There is a beautiful clock tower hanging out over a cliff in the middle of town.
Skiing winter in Greece is closely connected to Arachova. Also it is ideal place for a cool summer vacation, close to beaches of Antikira, Itea and mountain hiking trails.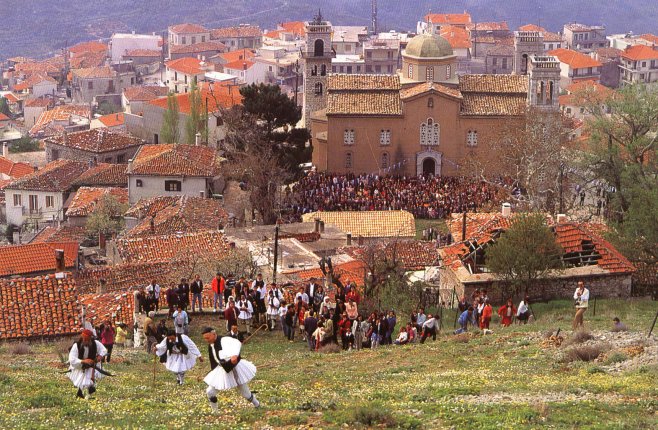 A very special event in the spring is the huge celebration in honor of Saint George, Arachova's patron saint. It starts on the eve of April 22nd and lasts for three days with a village festival of eating, drinking and dancing plus a race for old men dressed up in local costume, called " fustanella", up to the hill of Saint George.The winner gets a lamb that is brought down from Parnassus by the local shepherds and the survivors get their chance again next year. If the saint day falls within lent however, it is postponed to the Tuesday after Easter.
Also, Arahova is famous for its hand-woven fabrics and is a great place to shop for a "flokati" rug, or brightly colored shoulder bags. Visitors also enjoy eating out the town's many taverns and trying local delicacies like "contosouvli" (grilled meat), fine wine, the unique famous cheeses produced here called "formaella", "opsimotyri", and many other very delicious foods.
Formaella of Parnassos is traditional Greek cheese with Controlled Denomination of Origin (DOC). It is manufactured from ewe's or goat's milk or mixtures, in the region of Arachova at the foot of the Parnassos mountain. It is a hard cheese with piquant taste and rich flavor, which is consumed as table cheese after ripening for at least for 3 months. It is also consumed fresh as "saganaki" (shallow-fried cheese). The mean composition of Formaella of Parnassos is moisture 34.6%, fat 32.9%, proteins 27.7% and salt 2.1%.
Besides its rich archaeological and historical heritage Arachova and the surrounding area also present increased natural interest, since its flora and fauna are particularly rich. It's more than relaxing for one to walk along the beautiful fields and the sides of Parnassos in winter peace as well as during the season when snow melts and nature blooms in full splendor.
It is a grate challenge for Arachova's visitors to have a visit the very interesting ancient place and museum of Delphi and a tour around the area, such as: