Arahova (Arachova) – Parnassos - Eptalofos (Agoriani) – Lilea - Gravia - Amphissa (Amfissa) – Delphi – Arahova (Arahova).
This route is suggested for those who love mountains, hiking and skiing.(see the maps)
From Arahova the road starts to ascend Parnassos, passing through pastureland and fir forests before reaching the two fully equipped ski centres, one at Kelaria and the other at Fterolaka both are operated under the supervision of the GNTO.
Parnassos is wonderful for mountain climbing as well as skiing. There is a refuge for mountain climbers at Gerontovraho (at.1900 m.), 24 km. from Arahova. The ascent to the summit, which should preferably be done in July or August, can be done in one day.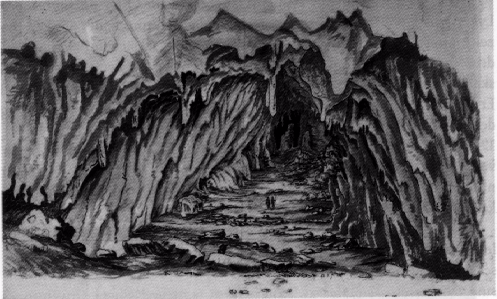 Along the same road that to the ski centres, 10 km, from Arahova, lies the Corycian Cave, called Sarantavli (Forty Rooms) today. Adorned with stalagtites and stalagmites, the cave in antiquity, as Pausanias recounts, was devoted to the cult worship of the god Pan and the Nymphs.
If you feel like walking, you can reach the cave from the archaeological site at Delphi by cutting across the mountain ridges (2 1/2 hours).
The road continues along the slopes of Parnassos to arrive at Eptalofos or Agoriani, an astonishing mountain village which celebrates Easter in a particularly interesting way the same as in Arachona.
Still following the same road you next reach the source of the Kiphissos river and the village of Lilea. You can still see traces of the ancient city which took its name from the nymph Lilea, daughter of Kiphissos.
Leaving Parnassos, the road winds along the slopes of Mt. Ghiona to the village of Gravia, known for its role in the War of Independence, and Amfissa, capital of Phokis prefecture. Even today a Frankish castle stands in watch above the town. The valley which spreads out below it is extremely fertile and planted primarity with olive trees. The road winds back up the mountain to Delphi and Arachova.